The A-7 Corsair II Association's mission is to document the history of the A-7 airplane and those who flew and maintained it, to be a repository and guardian of the extensive Corsair II legacy, and to facilitate contact among former members of the A-7 community. As a non-profit corporation, our goals are to contribute to select philanthropic organizations which support our mission and to assist the many aircraft carrier and land museums regarding the display and history of the A-7 airplane. A major focus is to provide funds and expertise toward encouraging the education of America's youth in science, mathematics, critical thinking, and how the A-7 played a part in the history of Naval, Air Force and Air National Guard Aviation.
---
- THE GOUGE -
---
A MESSAGE FROM JEFF "JEEP" STIVERS
President of the Association:
Greetings A-7 Association members.

Your association continues our work towards keeping the A-7 legacy alive as we execute continuing projects and look for new opportunities.

We are actively cataloging our photo archives and prepping photos to be uploaded into the A-7 Kiosk at the Naval Aviation Museum in a searchable data base that will allow visitors to look up photos by names, dates, ships, and airwings. Once it is fully operational visitors will be able to find pictures of friends, relatives and the aircraft that they flew or maintained. We are looking for volunteers who will sit for video interviews about the A-7 experiences to preserve their legacy for future generations. We are particularly interested in the Vietnam era folks and will move on to later exploits.

Our two 2018-2019 USAF college scholarships have been awarded in the amount of $1,500 each. Congratulations to Shay Ellis and Hallie Davis on their selection. Hallie will be attending Scottsdale Community College and Shay will be attending the University of South Dakota We have also awarded 18 scholarships to the National Flight Academy cruises. These cruises are under way and will continue throughout this summer. Each awardee spends a week at the National Flight Academy located on the Naval Aviation Museum grounds in Pensacola. Through our close working relationship with the NFA, we get our scholarships at a reduced rate, giving us a great bang for our buck.

The 1/10 scale model of a VA-56 and VA-93 A-7 is under construction and will be placed in the Light Attack RR aboard USS Midway. We are currently planning a gathering in San Diego 26-27 October to present the model. More to follow as plans firm up.

Looking toward the future, we are planning for 'Hook 18. As in the past we will have our table set up and will conduct our annual meeting at breakfast on Saturday morning. The association will also be joining the A-4 and A-6 Associations in sponsoring the Attack Ready Room again this year. We are looking for ways to make a visit to the ready room more interesting this year so if you have any suggestions for activities, please let me know.

I feel strongly that the above activities directly support our mission of preserving the legacy of the A-7 and they are only made possible by the support of our members, primarily through dues and donations. With that in mind I will renew my plea for our members to keep their dues current. We currently have approximately 597 members but unfortunately a great many are not current. As a result, our financial reserves are getting low and if we cannot increase our paid membership we will need to reduce our activities. Remember that your dues and donations are tax deductible so here's your chance to let Uncle Sam pay part of them.

Looking forward to seeing as many of you as possible at 'Hook
Jeep
J V (Jeep) Stivers
CAPT USN (Ret)

PLEASE GO TO THE NEWS SECTION OF OUR SITE FOR INFO AND LINKS FOR HOOK '18.
---
Today saw the unveiling of Naval Aviator and NFO wings that grace the exterior of the "Chapel of the High Speed Pass" at Cecil Field. The chapel is part of a wonderful project undertaken by the Cecil Field POW MIA Memorial, Inc. Installation of the Naval Aviator wings were sponsored by your Association.

Association members who took place in the installation ceremonies included Luke Memminger, who gave the benediction. and Mike "Carlos" Johnson gave a brief speech prior to the unveiling of the aviator's wings.

​ The folks at Cecil are doing amazing things. To learn more about the organization, their plans, and how you can support them, go to http://www.powmiamemorial.org/
---
MISSION ACCOMPLISHED!
A-7 Kiosk Installed at the National Naval Aviation Museum in Pensacola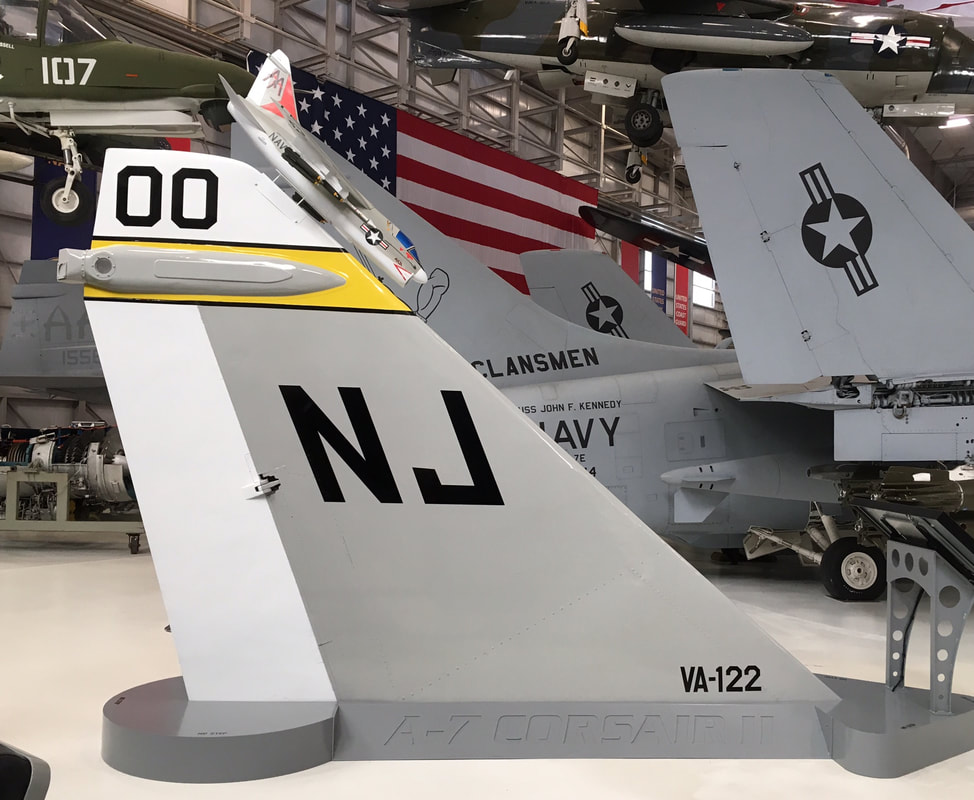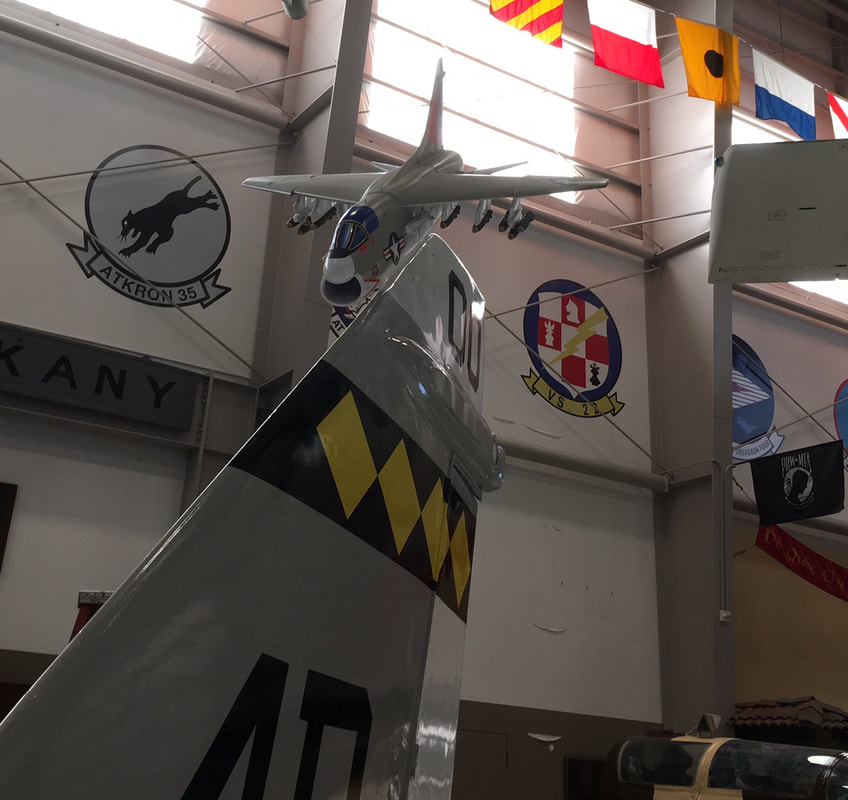 November 8th, 2017 was a banner day for the A-7 community. Folks gathered at National Naval Aviation Museum for an evening that surely strengthened the bond of our brotherhood, and brought back a flood of SLUF memories.

The evening started with the Museum enshrining Chance Vought in their Hall of Honor. From there, Officers and Members of our Association unveiled our interactive A-7 kiosk...a fixture that your donations and support made possible. The evening concluded with the retirement ceremony for our own Mike "Lobster" Fitzgerald, who stepped down as Chairman of the Board of the Naval Aviation Museum Foundation.

We could wax poetic about the details, but instead invite you to view the video posted below which will present the November 8th festivities better than words could!

---

HAVE YOU PAID YOUR DUES YET?

​Your membership dues help us to fund scholarships and other valuable initiatives. If you've not yet renewed your membership, please do so today!

Pay your dues here.

---
The A-7 Corsair II Association - Types of Membership

MEMBER: Open to all aviators who have flown an A-7 in the capacity of pilot-in-command, as well as all former officer and enlisted personnel who, at any time, served a tour of duty in a squadron which flew the A-7 Corsair II. Membership is also open to any persons who have served in a capacity of providing direct support to an A-7 squadron (e.g., civilians providing contractor services to the squadron at their home base, or while deployed).

ASSOCIATE MEMBER: Granted to corportations or otherwise ineligible persons who are sponsored by a Member, and are accepted by the Board of Directors. Associate Members enjoys all membership benefits except for voting privileges.

Click here to be taken to the Membership Application page.